AIDA - A Tradition In Freediving 
Course Goals
The AIDA Instructor Certification is recognised worldwide among freedivers.
Schedule
Day One
Course Orientation
AIDA 2-4 Exam
Running a classroom session
Running a stretching / breathing session
Day Two
Pool exam: Performance assessment
Running a pool session
Running an open water session
Day Three
Open Water performance assessment
Legal requirements
Safety and risk management
Planning, marketing and budgeting a course
Day Four
Classroom teaching practice
Pool teaching practice
Day Five
Open water teaching practice 1
Open water teaching practice 2
Day Six
Practical exam: Classroom teaching
Practical exam: Stretching / Breathing
Practical exam: Pool teaching
Day Seven
Practical exam: Open water teaching
AIDA Instructor Exam
Special Presentation
Prerequisites
Participation in this course requires a high level of freediving skills and education. An master certification is necessary. To achieve this certification, see our master-level courses.
During the AIDA Instructor course we will not have time to work on your freediving skills. To make sure you meet the substantial performance requirements, we recommend you take part in our instructor training before the Instructor Course.
We have designed our We Freedive Instructor Training to help you become the best Freediving Instructor you can be. Take part in our instructor Training weeks before this course to make the most of your Freediving Instructor Training with We Freedive.  - Find the links to our Instructor Training Weeks below.
Also, this course requires recent first aid certification (no older than two years). First aid is one of the most rewarding training programmes one can get. To get your first certification or a refresher, see our 1st Aid courses.  
Materials and Equipment
In order to act as a freediving instructor in your course, we highly recommend having your own full set of equipment
Low volume mask and snorkel
Freediving bi-fins
Freediving wet suit or adequate exposure protection
Flexible weight belt and/or neck weight
Freediving nose clip (optional)
Freediving computer
Freediving lanyard (optional)
Signalling device for summoning aid at sea
If you want to get your own set of equipment, you can do so with us; we will be happy to help you choose the setup that works best for you. If you already know what you want, let us know what you need and have it waiting for you when you arrive!PADI Materials as well as freediving equipment are available for purchase at We Freedive.
Instructor Presentation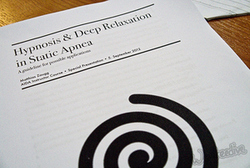 Once you have signed up, you will be assigned a topic for your presentation for which you have at least 30 days to read, research, write and prepare a written document to accompany it. We highly encourage you to sign up early, as this assignment tends to take longer than anticipated and you will be proud to publish the outcome if you put enough productive time into it.
Before choosing the topic, we want to get to know you, your interests and fields of expertise in order to select a topic that allows you to apply your individual skills and expertise to freediving and that way add more information, knowledge and experience to the world of freediving.
Once your AIDA Instructor Trainer has assigned your presentation topic, we will be available to help you with your progress with sources, proof reading and some tips and tricks for your writing. The crown of every Instructor course is the candidate's presentation, so it is well worth to make it a piece to be proud of.
We aim to help you create a document that will put your name firmly onto the map of freediving. Selected presentations and papers will also be published in the We Freedive Resources, where they will be accessible to freedivers and educators all over the world.
Certification
Once all course goals are met, the AIDA Freediver Instructor certification will be issued.*
Related Training
To make sure you have time to work on your teaching instead of having to brush up on your freediving, you may want to get some training in before the course. Things like a stamina test, deep rescue and a 40 metre CWT dive should sound perfectly doable for you before your course, so you will want to train - in the open water and in the pool - before enrolling in this course.
Instructor Training - 1 Week
Instructor Training - 2 Weeks
Instructor Training - 3 Weeks
Related Training
* Certification fee is not included in the course fee